Meeting owl is our comprehensive tool to host a meeting with multiple people (outside / inside the office). It is a fully fledge 360 camera which would capture a group of people in 360 degrees and it is pre-configured to capture/focus on the primary person speaking at the meeting.
How It Looks To The End User (People Outside The Meeting Room)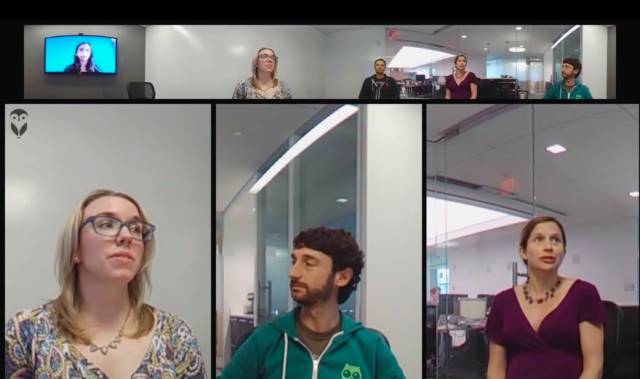 How To Use It?
Step 1: Plug the Meeting Owl device to the USB Extension located under the Meeting Table and also connect it to power.
Step 2: Login in to the computer in the meeting room (Password is located on-premise)
Step 3: Choose your preferred video conferencing application from the dock (Skype, Zoom, GoToMeeting)
Step 4: Log in using your credentials (For Skype theres a common account which is already configured)
Step 5: Make a video call as you would usually do.
Tips: Make sure you place the Meeting Owl device on the centre of the table to capture everyone in the room. Meeting Owl handles Audio/Video hence you do not have to use external speakers, microphones, cameras.
I Have A Presentation And How To Present It In The Meeting?
If you have a presentation then you can plug your own laptop to the projector in the meeting room (so the people in the room can see your presentation) and then connect with your own Skype/Zoom/GoToMeeting account to the on-going conversation (so the end users can see your presentation). Then you can easily share your screen in the conference like you usually do.